Reiki Center of Venice
The Coronavirus
The Coronavirus and What You Should Know as a Healthcare Professional
COURSE SUMMARY
This course is designed to help the healthcare professional to understand how the Coronavirus Disease 2019 (COVID-19) affects the population and what steps they need to take to protect themselves from becoming a victim themselves. For the healthcare professional, most of the following advice will serve as a reminder to be more diligent on how you handle your daily disease prevention routine and hygiene for all viruses and diseases, not just this one.
Sample of Prevention and Treatment
Prevention & Treatment (Sample)
Prevention
While there is currently no vaccine to prevent Coronavirus disease 2019 (COVID-19), the best way to prevent illness is to avoid being exposed to this virus in the first place. The CDC recommends everyday preventive actions to help prevent the spread of respiratory diseases, including:
Avoid close contact with people who are sick.

Avoid touching your eyes, nose, and mouth.

Stay home when you are sick.

Cover your cough or sneeze with a tissue, then throw the tissue in the trash.

Clean and disinfect frequently touched objects and surfaces using a regular household cleaning spray or wipe.

Follow CDC's recommendations for using a facemask.

Wash your hands often with soap and water for at least 20 seconds, especially after going to the bathroom; before eating; and after blowing your nose, coughing, or sneezing. If soap and water are not readily available, use an alcohol-based hand sanitizer with at least 60% alcohol. Always wash hands with soap and water if hands are visibly dirty.
Treatment
Since there is currently no specific antiviral treatment recommended for COVID-19, people with COVID-19 should receive supportive care to help relieve symptoms. People who think they may have been exposed to COVID-19 should contact their healthcare provider immediately.
Image Shown Below:
Scanning electron microscope image of SARS-CoV-2 (yellow). Credit: NIAID-RML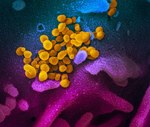 Cost of Course
Cost of Course: $10
2 Ce's
General Massage
FL. Massage
BOC
Click Here For Course Info
Contact me With your Questions