Reiki Center of Venice offers Shiva Lingam products
About the Shiva Lingam
A symbol that represents the 'Formless' (or 'complete one') is the Shiva Lingam. Sometimes this symbol is also referred to as Shiva Pindi-the Universe Bearer.
The Shiva Linham is an oval shaped stone that is said to resemble the Universe and containing all of the power of said universe within it. It comes from the Sankskri word lingam, meaning "mark" or "sign." Shiva comes from the Hindu and represents the deity Shiva who is worshipped in the temples, this comes from the Hindu scripture, 'Shiva Purana' where it is said that the worship of the lingam (loss and recovery of Shiva's phallus)-or as the endless pillar (cosmis pillar)
For more information on the Shiva Lingam, please visit http://en.wikipedia.org/wiki/Lingam.
Wirewrapped Shiva Lingams
Cost: $2.99 plus $5.99 U.S. postage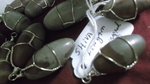 Shiva Lingam Stones
We offer the Shiva Lingam stones for sale as either wirewrapped in silver metal or with a hole drilled through it for a neckalce. Either way, the stone will cost $2.99 plus $5.99 postage inside of the U.S. Call for shipping prices outside of the country.
Shiva Lingam Choker
Shiva Lingam Pendant on Black Cord