Reiki Center of Venice ~ Clearance Sale
Products Clearance
Enjoy one-of-a-kind specials.
First come ~ First served
Shipping prices quoted are for shipping within the United States. Check with me first about priciing for out of country shipping charges. Drop me an email at FrancineMilford@cs.com.
Save postage and stop in the office to pick up your order!
Prices are for shipment inside of the U.S. If you live outside of the country please email for postage costs to your country.
Electric Foot Warmers
Electric Foot Warmers
Used-but like new as it was only used 3 times.
Cost: $20 plus $7.99 postage in U.S.
(or purchase with the Hand Warmers for only $35 total)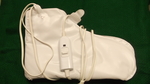 Chalice
Basics of Sprouting Booklet
50+ page booklet contains information on how to grow a variety of sprouts.
Booklet includes growing methods and recipes.
Cost of Booklet is $6.99 plus $2.99 postage in United States.