Reiki Center of Venice
Understanding Research
Understanding Research
6 Ce's for LIVE class
3 Ce's for Home Study
NCBTMB Approved Ce Provider #310466-00
My CE National is approved by the National Certification Board for Therapeutic Massage & Bodywork (NCBTMB) as a continuing education Approved Provider.
FL Board of Massage Therapy Approved Ce Provider #50-9690
Ce Broker Course #20-459971
Understanding Research by Francine Milford, LMT.
Email: FrancineMilford@cs.com
Content © 2014 Francine Milford, LMT. All Rights Reserved
All Website Disclaimers and Terms & Conditions Apply
Understanding Research
Goals and Objectives
Course Description
"Understanding Research" is a home study continuing education program designed for licensed Massage Therapists and Bodyworkers. This course focuses on how to locate and understand research studies and how to incorporate the information into your own practice. Students will learn how to cite credible sources of information and how to start their own research projects.
Course Rationale
This course was developed to give updated information to licensed massage therapists about locating, using and creating research studies in their profession.
Course Objectives
This course is designed to give the student an understanding of the importance of using research to enhance the field of massage therapy and bodywork. Through this course, students will gain knowledge of where to go for valuable information and insights that they can use in their own practice. For those students who would like to document their own findings, this course will help to give those therapists a working knowledge of where to begin their documentations.
Upon completion of this course, participants will be able to:
· Students will demonstrate knowledge of locating quality research in their field.
· Students will demonstrate knowledge of reading and citing sources of information.
· Students will demonstrate knowledge of the differences between 'Quantitative' and 'Qualitative' research studies.
· Students will demonstrate knowledge of how to handle participants in a research study.
· Students will identify the two major types of research studies and the strengths and weaknesses of each.
· Students will demonstrate knowledge of the terminology used in research studies.
Course Instructor
Francine Milford, LMT, CTN
Method of Instruction
Text based online home study course
Course Requirements
In order to successfully complete this course you must complete the enclosed test and earn a score of 70% or higher. If you do not receive a 70% or higher, then you may contact the instructor to receive a new test. If you not score a 70% or higher on the second test, then you will have failed this course and will not receive your continuing education hours.
Determination of Contact Hours
The "Understanding Research" course will require at least 6 hours to complete. This estimate is based on the accepted standard for home study courses of approximately 10-12 pages of written text per hour. The complete text of this course is _76__ pages. (Excluding test)
Table of Contents
Title

Page Number

Chapter One-What is Research?

7

Different Types of Research

7

Primary & Secondary Research

8

Different Methods or Research

10

Qualitative Research

10

Quantitative Research

11

Chapter Two-Additional Approaches to Research

15

Pragmatic Research

15

Advocacy/Participatory Research

15

Epidemiology

15

The Hierarchy of Research

17

Chapter Three-Scientific Research

22

Checklist for Evaluating Research

24

Chapter Four-Clinical Studies

27

Worksheet for Understanding and

evaluating research studies

28

What does 'doi' mean?

36

Chapter Five-The Steps of a Research Paper

56

Chapter Six-How to Locate Research Information

59

How to use the Search Box

59

Advanced Search Parameters

61

RSS Feeds

67

Search Engines

69

Glossary of Terms

72

References

79

Test Questions

80
Why is Research Important?
As massage therapists and Bodyworkers, we are always searching for up-to-date information in our field. We are often looking for ways in which we can help our clients with specific condition and ailments that they may be presenting with. We are also looking at adding new modalities and therapies to our practice in order to better serve the public and enhance our own offerings. As progressive therapists, we are always concerned over what the current trends and fads are in order to better answer the questions that our own clients may have for us about the efficiency of new products on the markets.
This course is designed to give you, the therapist, useable knowledge on how to locate scientific and quality research on a list of health care topics that will increase your knowledge.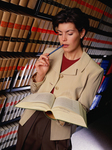 Cost of Course-$39
Cost of Course is $39.
Your course, along with the test questions, will be emailed to you within 24 hours after receiving payment.
When you are finished reading the manual and answering the questions, please email me the answers to FrancineMilford@cs.com
Your certificate will be emailed to you after test has been graded.