Reiki Center of Venice
Clearance 2
One of a kind items.
Brand New
First come-First served
Order several items at one time and save $$$ on postage. Just send me your order and I will send you an invoice.
Need help? Email FrancineMilford@cs.com
Bracelet 1
Bracelet #1
Beautiful adjustable bracelet.
Brand New.
Only one.
$5 plus $3.99 postage inside U.S.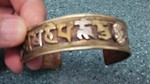 Bone Om Tuning Fork
Weighted Bone OM Tuning Fork
Brand New
Only 1.
Cost: $20 plus $8.99 postage in U.S.

Cho-Ku-Rei Pendant #5
Hand made, one-of-a-kind,
Chokurei gemstone pendant
Brand New
Only 1
Cost:$8 plus $3.99 postage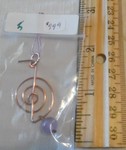 Cho-Ku-Reiki #6
Hand made, one-of-a-kind,
Chokurei gemstone pendant
Brand New
Only 1
Cost:$8 plus $3.99 postage